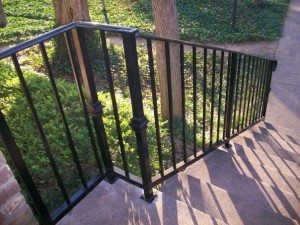 Robitzsch Fence designs and installs top-quality iron railings in the Dallas area. An iron railing adds an element of classic style to any exterior steps or hard landscaping.
A better choice than any alternative material used to construct railings, iron requires little maintenance and will withstand all weather conditions well.
As most railings are not installed for strictly decorative purposes, Robitzsch professionals ensure thorough safety standards are met when installing iron railings. The decorative touch an iron railing lends to any landscape is a secondary benefit.
Increase the appeal of your front entrance or rear patio with a custom designed iron railing. Our iron railings are offered in multiple colors and several designs. We understand that you want the exterior of your property to reflect the unique style of the interior of your home. Our designers will work to match the personality of your home in the details of your iron railings.
Call us to request more information about iron railings.