The best in privacy, security and luxury; building an automatic gate on your property will give all this and increase your property value. We offer custom designed automatic gates suitable in style for even the most prestigious of Dallas addresses.
Our gates are designed according to your tastes. Your personal Robitzsch representative will consult thoroughly with you to gain an understanding of the type of security and design you require. We will then design and construct your custom automatic gate, and provide full service automatic gate installation.
A custom electric gate makes a statement. While welcoming to visitors, it is a sign of a desire for privacy to others. The installation of an electric gate and the resulting privacy will enhance your property's value immediately. Further, the real addition of security will serve to protect your family for years.
Our master craftsman will work to install your automatic electric gate to exceed professional standards. Your complete satisfaction with your every experience with Robitzsch Fence is our goal. From your initial consultation to a post-installation follow-up we are determined to create a positive relationship constructed on trust for your metro-area Dallas automatic gate.
Rolling Gates & Sliding Gates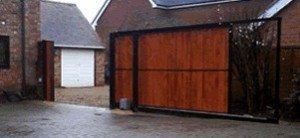 We build rolling gates & sliding gates Dallas home and business owners appreciate for their security, safety, reliability and beauty.
We can use either wood or iron to construct a rolling gate in Dallas that will provide you with ultimate property security. The use of high quality rolling gates instead of swinging gates opens the possibility of gate entrances to a wider percentage Dallas homeowners.
Ample entrance space is required to install a swinging gate. Dallas homeowners with little entrance or driveway space will find it difficult to maneuver around a swinging gate.
Swinging gates are attached to and supported by one post, thus need continual maintenance to maintain maximum support. Swinging gates are also more likely to detach from that post creating a shorter lifespan. Sliding gates are supported by the posts of the fence they are attached to which makes them more durable and long lasting. Sliding gates also offer homeowners with limited space easier access than swinging gates. Our wood and iron sliding gates are ideal for entranceways.
Rolling gates are designed to roll parallel to the gate support, taking up no driveway space. Rolling gates also prove to be more cost effective over time, requiring minimal maintenance compared to a swinging gate. Installing a rolling gate at the entrance to your property will significantly increase your security and privacy.
Contact us today for information on your Automatic Gate installation.