Quality constructed retaining walls are designed to serve many functions. Robitzsch Fence specializes in providing Dallas, TX and the surrounding areas with retaining walls that are purposeful and tasteful.
A retaining wall on your property may be a necessary step in creating proper drainage away from your home or maintaining consistently level yard area. Other retaining walls may exist for strictly decorative purposes, providing a place to maintain flower beds and the like.
Further, retaining walls may consist of several different materials. Depending on the function of the retaining wall and your personal preference, your retaining wall may be constructed with wood, stone, brick, and other materials.
If you call us today, we will set up an appointment to inspect your property to understand the purpose of your retaining wall. We will then discuss the many construction materials available and discuss which would most benefit your property in Dallas or surrounding suburbs.
Robitzsch Fence retaining wall design experts will work together with our construction crew to deliver a retaining wall that will wow you in style and serve its functional purpose.
Call us today to schedule a free consultation on your retaining wall in Dallas or beyond.
Garden Walls
Attractive garden walls create visual curb appeal in Dallas neighborhoods. You might be surprised to know that Robitzsch Fence has created several of these decorative garden walls for many of your neighbors. Garden walls are a simple way to add appeal and interest to your landscape. Creating layers within your existing landscape will highlight plantings. Your consultant at Robitzsch Fence will work with you to design a landscape layout, placing your garden wall in a prime position.
With custom garden walls you will be able to maintain a more manicured landscape with less effort throughout the year. Your garden wall can be constructed with wood, stone or rock. All design aspects are customizable guaranteeing that your garden wall will coordinate with the style of your home.
Contact Robitzsch Fence to discuss the design of your garden wall today.
Stone Walls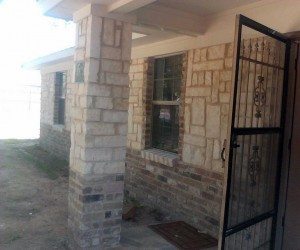 The experts at Robitzsch Fence can assist you in creating a more visually stunning landscape with the addition of stone walls. Popular for use as garden beds, stone walls can provide significant support to your garden through their drainage properties, as well. Creating tiers of garden beds (see "Garden Walls," above)  in a level landscape adds interest.
The use of stone as a medium in wall building and design is a traditional way to enhance your landscape. A stone wall extending from the previously bare façade of your home will add curb appeal and potentially increase the overall value of your home. Whether you wish to add a stunning front elevation or a simple garden bed, the design team at Robitzsch Fence will capture your creativity and style to deliver a stone wall that complements your home and yard.
Please call us today to find out how we can spruce up your environment.