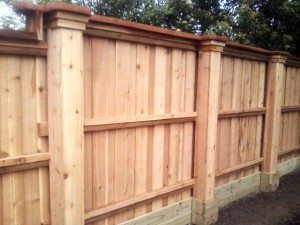 Robitzsch Fence is a leader in the custom engineering and installation of cedar fencing. The most durable of fencing material, cedar wood is an especially good option for custom fencing.
Cedar fencing is better able than many fence woods to withstand all types of weather including harsh sunlight. Cedar wood can be painted or stained a variety of colors so is easily customizable.  In addition to several design options, the ability to choose any paint or stain color with which to finish your cedar fence enables you to fully coordinate your fence with your home or surrounding property.
Cedar, as distinguished from other wood varieties, resists rotting, termite damage and warping.  Cedar stands out among all other wood fencing materials because of its own natural preservatives that protect it from wood rot and various insects. Because of its low density, cedar fences have minimal to no bowing and cupping, therefore outlasting all other wood fence materials.
With proper maintenance, a cedar fence may outlast a fence constructed of any other material.
At Robitzsch Fence (Dallas Fence Company) we offer high quality cedar fencing in various styles and you have the ability to customize any way you like. We want to work with you to design a fence that reflects your tastes.
Call us now to discuss those qualities of cedar which make it an excellent choice for your custom fencing.