Iron Fencing
The quality iron fences we construct at Robitzsch Fence are designed to provide security, emphasize the appeal of your property and increase your home's value. We understand that you are making an investment. You should feel confident in investing your trust in a company as well regarded as Robitzsch Fence, a leader in iron fence construction in the Dallas and surrounding area.
We are committed to creating iron fences that provide the most effective security while implementing the latest in design techniques.  When you first contact us to inquire about designing and installing your iron fence, your customer service representative will discuss the many design options that are available to you. You will then meet our company representative for a complete consultation regarding design, construction and installation. Your result will be an exemplary iron fence that provides you with the security you desire while maintaining the open feel of your property.
Robitzsch Fence can design and construct the iron fence you have always wanted, while providing the kind of customer service only a family owned company can provide. The quality of Robitzsch Fence has exceeded industry standards over the last decade. Our intricately designed iron fences, finials and gates are available in a variety of colors and styles, from traditional to modern.  Our ability to help our customers realize their custom designs and install them professionally has resulted in hundreds of satisfied customers.
If you have been dreaming of an iron fence, contact Robitzsch Fence today for a free consultation and estimate.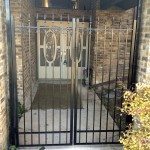 Iron Gates
Iron gates from Robitzsch Fence deliver a stunning entrance to your property.
Click here to learn more about our beautifully designed iron gates.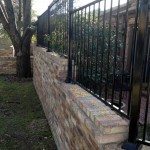 Wrought Iron
At Robitzsch Fence, we deliver a wrought iron fence that is uniquely yours. We will work with you to design a wrought iron fence that coordinates with the style and feel of your home and property, allowing you to choose your preferred color, posts and finials.
Click here to learn more about the beautiful wrought iron solutions we offer in Dallas and beyond.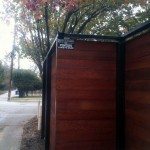 Wood & Wrought Iron
A newer trend in the fencing industry combines wood and iron offering maximum flexibility of both design and style.
Click here to see just some of the wood and wrought iron solutions available at Robitzsch Fence.
Iron Railing
Iron railings add an element of classic style to any exterior steps or hard landscaping, as well as a definite safety feature.  Robitzsch Fence is a major provider in designing and installing high quality iron railings in the Dallas are.
Click here to see a few of our iron railing projects in the Dallas area and beyond.
Custom Iron Work
If you know you want something specific but are having difficulty visualizing it, give us a call. Our staff and skilled welders can help you discover custom design options to help you achieve that unique look you are seeking.