Robitzsch Fence guarantees every single wood fence we build and install. Our crews have over 10 years of experience in installing wood fences in the Dallas area. These are the skilled tradesman you want building your custom wood fence.
We have years of experience building some of the most beautiful wood fences in Dallas. Our custom wood fences will add an elegant quality to your house and set it apart from all your neighbors. Custom wood applications include cap, triple trim, decorative gates with iron inserts and decorative post covers. Every fence we build is as custom and unique as the customers we build them for.
We only uses the best non-imported material available.  Many companies try to pass Chinese Cedar (fir) off as real Western Red Cedar to cut costs. Although this wood may look like cedar, it does not have the same quality properties as real cedar.
We use galvanized ring shank nails to prevent rust lines going down your fence. We also use full 2×4 rails for extra strength. All of our post holes are minimum 8" wide and 24'' deep on our 6' fence and 30''-36" deep on our 8'+ fences. Our brackets are heavy duty WAPO brand and are the best bracket to use unlike other flimsy types. We take pride in our workmanship so we guarantee every fence we build.
Installing a privacy fence around your property bestows privacy to you and your family. Your neighbors will benefit from the tangible separation as well. Your custom designed and installed privacy fence from Robitzsch Fence will provide all you need to effectively create your personal space within your property.
The most trusted name of any fence builder Dallas residents have known in the last decade is Robitzsch Fence. A family owned company whose focus is complete customer satisfaction from initial consultations through final reviews and payment, Robitzsch Fence is the most highly qualified fence builder in the Dallas area.
Call us today to schedule your FREE-NO HASSLE estimate!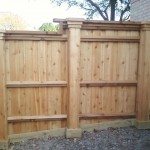 Cedar, as distinguished from other wood varieties, resists rotting, termite damage and warping.
With proper maintenance, a cedar fence may outlast a fence constructed of any other material.
Click here to learn more about cedar fencing solutions.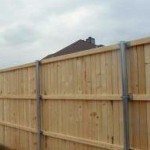 When constructing standard stockade fences we use a superior spruce species to maintain long lasting durability while providing a budget friendly option.
Spruce is not just for stockade fencing, though. Spruce is also used to construct picket fencing.