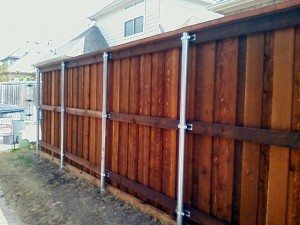 Robitzsch Fence is committed to delivering a quality product that will last a lifetime. In general, fences require very little preventive maintenance. We construct your fence with high quality materials designed to withstand the elements as long as possible. We take care to use the proper hardware in fence construction to ensure maximum wear.
That being said, all fences need to be treated and re-stained at least every five to seven years. Robitzsch Fence is pleased to offer our customers superior fence staining service in Dallas and surrounding areas. We use ReadySeal, an all-in-one seal and stain that carries several different shades and colors.
We are determined to assist in the preservation of your fence as we believe a well-built fence, constructed with high quality materials is an investment that should last for the life of your house. Our thorough Dallas fence staining service includes cleaning and preparing the fence for stain application and spot checking for any cosmetic repairs required. If we notice any repairs that may be necessary, we will consult with you before moving forward.
If our Dallas fence company Robitzsch Fence did not originally install your fence, that is no problem. We are happy to re-stain your existing fence. Contact us today at (214) 675-2629 for a free estimate.